WHAT WE DO
WHAT WE DO
Team Kids is a nonprofit organization with a big mission:

'To empower kids to change the world.' We are committed to creating a dual paradigm shift; in the way young people perceive themselves as capable, powerful changemakers, and in how adults view and treat youth as community partners.
Our youth leadership programs are designed to build empathy and self efficacy, while strengthening children's connections to their peers, school, community, and caring community mentors.
In 2001, 600 students at Vista Verde Elementary School in Irvine, Calif., learned about Jeremy, a three-year-old boy suffering from a rare heart condition.
When the students realized that Jeremy's family needed $20,000 to fly him to the Mayo Clinic for life saving surgery, they began raising funds through coin drives and a pancake breakfast with firefighters.
Their efforts gained widespread media coverage. Community donations poured in, a Hollywood celebrity gave $18,000, and a local philanthropist offered the use of his private jet, pilot, and fuel to fly Jeremy's family to Minnesota.
Inspired by the students' compassion and impact, current CEO Julie Hudash founded Team Kids to help youth make a difference in their communities. Today, Jeremy is a thriving adult and more than 650,000 children have made an impact through the Team Kids Challenge!
20 Years of Youth Empowerment
Team Kids youth leadership programs are research-based and empirically-validated. We are one of the only education-related organizations to conduct a school-based randomized control trial. Discover the many benefits of Team Kids programs for youth, schools, and communities.
"[Through Team Kids,] I learned that you don't need to be an adult to make a difference".
"Team Kids, to me, is an antidote to entitlement and one great way to create the responsible citizens we all want as future leaders."
"Team Kids is teaching kids how to use their skills and talent and compassion to help others, and in that process, they develop their own leadership skills [… and] I think that [police] officers get as much out of it as the young people do".
Families
Change the world during COVID-19 lockdown! Try Team Kids Unite, a free, at-home service program.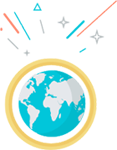 Community Partners
Join the growing number of community and government organizations empowering Team Kids.