TEAM KIDS
CHALLENGE
TEAM KIDS
CHALLENGE
Transforming Students
Into Leaders
Team Kids Challenge is a youth leadership program available to all students during the school day, providing innovative opportunities for students to volunteer. Students serve alongside firefighters, police officers, and their Team Kids Coach to unite their school in creating community change. The Challenge is student-led, research-based,
and empirically-validated.
About the Team Kids Challenge
The Team Kids Challenge starts with an engaging kickoff event. Elementary school students learn about teamwork and share how they want to change the world. Every student on campus is invited to participate in a weekly challenge such as collecting food or clothing, and form a volunteer Leadership Team that meets once a week during lunch to plan a schoolwide carnival fundraiser. 100% of proceeds are donated to a nonprofit selected by students.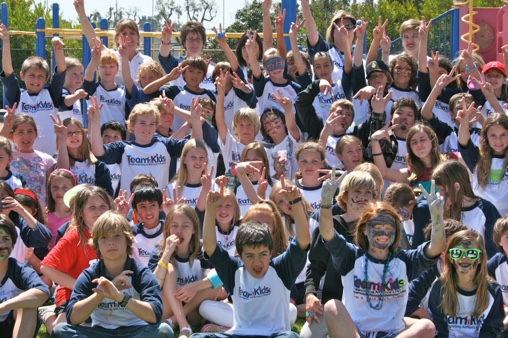 Research data suggests that after Team Kids Challenge went to P.S. 149 Danny Kaye Elementary School in Brooklyn, New York, program participants had a more positive view about their ability to create community change. Teachers and public safety personnel also showed a greater belief in youth as valuable community assets.
"[I learned that] no matter how old you are or how big you are, you can still make a difference.".
"If you're working together as a team and everybody chips in, you can make big, important things happen for others".
18000+ volunteer hours annual
25,000 students empowered every year
35 community partnerships leveraged
$600,000 cash and donations raised
100% of youth-generated donations given to causes