WE HELP CHILDREN
CHANGE THE WORLD
Celebrating 20 years of service
WE HELP CHILDREN
CHANGE THE WORLD
Celebrating 20 years of service
Team Kids is a nonprofit organization that empowers kids to change the world through innovative service programs delivered from home, school, and in their community.
We implement research-based and empirically-validated positive youth development programs, alongside on-duty firefighters, police officers, and university interns, at no cost to students, youth, and families.
Hear Kids Dreams…
Kids share answers to, "If I had a magic wand and could change anything in the world, I would…"
Families
Youth can change the world from anywhere! Try Team Kids Unite, a free, at-home service program.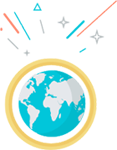 Community Partners
Join the growing number of community and government organizations empowering Team Kids.
Team Kids strengthens protective factors that prevent high-risk behaviors, such as drinking, drug use, violence, and other actions that rob youth of their potential. Programs also promote thriving indicators, cultivating self-esteem and positive mentoring relationships.
"I learned that doing good things doesn't mean rewards you can hold, it means you get a reward that stays in your heart forever."
"My child has always been very thoughtful about world hunger, but ever since Team Kids came… she's been NUTZO goodie-two-shoes!!!"
Team Kids is one of the only education-related organizations to conduct a school-based randomized control trial, and our youth development programs are research-based and empirically-validated. We aim to create a dual paradigm shift: showing communities what youth are capable of and helping children discover they can create change.
Youth Strengthening Communities
Research shows that bringing youth together with public safety mentors, such as police officers and firefighters, in a non-enforcement setting creates more positive community relationships. Bridging this gap is more important today than ever before.
Last Saturday, children were invited to participate in a creative challenge at select Starbucks locations in California. Using only recyclable materials available at the Team Kids Maker's Lab tables, kids teamed up with our staff and volunteers to make one-of-a-kind...
read more
Sign up to hear about program updates, volunteer opportunities, and events.